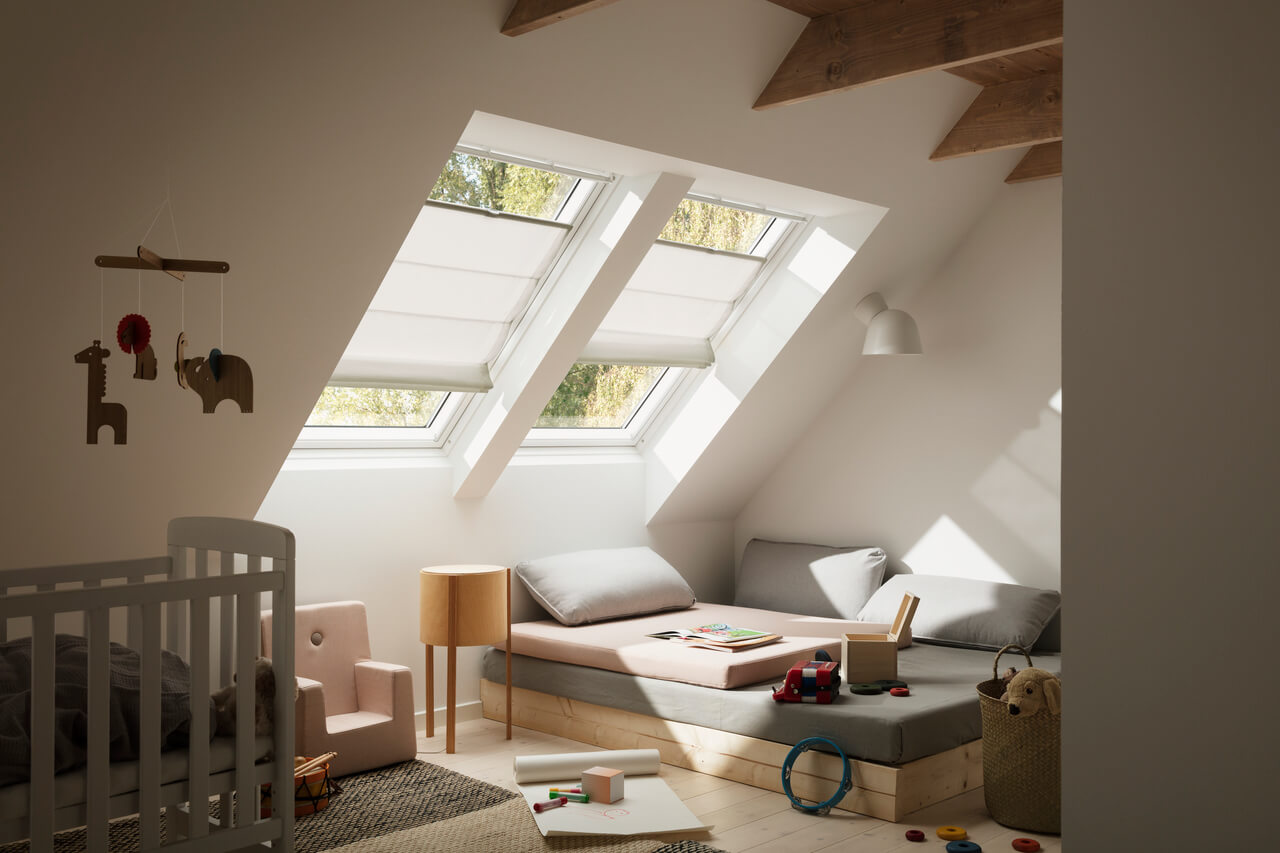 Velux window installations and replacements in Royal Tunbridge Wells, Kent
Are you looking for local roof windows experts? Absolute Roof Windows specialise in the supply, installation, repair, and replacement of all Velux windows and roof windows in Royal Tunbridge Wells, Crowborough, or Edenbridge. We work throughout the domestic and commercial sectors and can a whole range of services to suit you.
From the first stages of design and supply of roof windows to installation, maintenance, and servicing, make us your number one choice for all your roof windows needs. We are Velux-certified roof windows installers, meaning that we have the seal of approval from this top brand and you can feel confident that you are receiving the best service and quality installations. No matter how small or large the project you have in mind, we can count on our team to meet your needs and provide the quality service you are looking for.
Wide range of styles from simple top-hung and centre-pivot windows to conservation roof windows and electric or solar-powered windows
Superior workmanship and level of care, where disruption is always kept to a minimum
Roof windows and skylight installations completed from the inside of your property
FENSA-approved and Velux-certified roof windows specialists, with 25 years' experience
Fair and affordable prices with free roof windows surveys and quotations available at any time
Roof windows ideal for unconverted and converted loft spaces, bedrooms, bathrooms, hallways, extensions, barns and outbuildings, commercial properties and more
For more details, please call us now on 07933 546 880.
Loft roof windows and Velux windows installed near Crowborough
We are leading suppliers and installers of Velux windows in Crowborough, Royal Tunbridge Wells, or Edenbridge.
Top-hung roof windows: To create a room with a view, top-hung windows are ideal and can offer fantastic views. Installed anywhere in a pitched roof between 15 and 55 degrees they have a bottom handle for operation.
Centre-pivot roof windows: The most popular style for roof windows, centre-pivot windows are ideal for lofts and extensions, where you are looking for additional light and ventilation.
3-in-1 roof windows: Designed to create a panoramic view, this window has a slim profile and invites in plenty of light.
Velux Cabrio balcony windows: Transform your window into a balcony in seconds and let in light and air.
Integra Electric and Solar roof windows: Opened or closed at the press of a button, these windows represent one of the most comfortable and convenient ways to ventilate your space and let the light in. All windows come with in-built rain sensors so any window automatically closes when it detects rain.
Conservation roof windows: These classic windows are designed to tastefully blend in with the roof of your old building. They offer superior insulation and great features.
Sun tunnels: If you want some natural light in a windowless room, we can show you a range of sun tunnels to make your home feel bright and welcoming.
Velux blinds: We can supply and fit a whole range of specially designed blinds for Velux products, including blackout, roller, and pleated blinds. These are designed to complement your roof window and maximise its benefits.
Josh and his colleague were both professional, courteous yet friendly.The work was done quickly and efficiently.There was a delay (through no fault of Absolute Roof Windows) and Josh dealt with this with complete honesty and integrity.Overall we are extremely pleased with the work and would certainly recommend this company to family and friends without hesitation.

I highly recommend Josh at Absolute Roof Windows to replace a velux window. He was professional, reliable and went out of his way to problem solve with a slightly more difficult job. I am very grateful for all his hard work.

Michelle Kay
14:46 20 Aug 21
Josh and his team are fantastic, delivering a first rate job in a professional yet friendly manner. Also, Josh went over and beyond in terms of what we paid for. I'd heartily recommend them to anyone.

Neil Bruce
06:14 10 Aug 21
Had a great experience using the team. Knowledgeable, hard working and great to deal with.Really enjoyed having the guys here, great bunch of blokes.

Matt Stevenson
22:48 08 Jul 21
Josh and his colleague recently replaced a roof window in our loft. They were professional and courteous throughout the visit and it was clear there was excellent workmanship and knowledge about velux windows. I would recommend to anyone and happily use again.

Katie Mcvea
20:42 08 Jul 21
Josh, Simon and Bill were fantastic, really quick, tidy and great at what they do. We're so pleased with our new replacement Velux windows, such an improvement to the old ones. Highly recommended.

Really happy with the windows and the service. I would definitely recommend them.

Alison Stuart
16:22 08 Jul 21
Josh was really helpful when we spoke on the phone both before and after installation and answered any questions we had. Simon and Bill did an excellent job on installation and were really friendly and professional. Thoroughly recommend!

Elie Kelpie
08:15 10 Jun 21
Josh and Simon have done a fantastic job on the installation of 4 replacement Velux windows in our bedrooms.They were prompt, reliable and tidy. The work has been done to an incredibly high standard. Josh's communication was excellent, especially when the 2nd day of work had to be rescheduled due to the risk of rain with the potential damage that could be done to the interior of the property, (it did start raining an hour later).Have to mention Simon, (yes there where 2 Simons) the scaffolding contractor that had to be used to gain access to the out of reach window. They were equally professional.Would 100% recommend Josh and team to work in your home.

Neil McGarahan
07:57 08 Jun 21
If i could give Absolute Roof Windows a 6th star I would! They installed 3 New Velux windows in less than a day, and did an excellent job too. On top of that they carted away the old windows and left no mess at all. They even helped me carry a fridge freezer up four flights of stairs as a favour! 😃 I cannot recommend Josh and his team enough! Look no further - this guys are top!

Ian Micallef
06:23 08 Apr 21
Super impressed with Josh and his team and would highly recommend. Very responsive and a pleasure to deal with. I had a new Velux Skylight installed and Josh was great at explaining all the options so I could get to the right skylight, including thermal insulation and soundproofing. I found them very competitive on price compared to others. The Skylight was done within one day and it's made a huge difference to the quality of sleep I have in my bedroom. Thanks!

First rate service. Came to quote immediately and arranged to carry out work as soon as was practicable. Worked through COVID restrictions and extreme weather to replace numerous velux skylights. One very happy customer.

Lisa Finch
17:55 15 Mar 21
Josh & his team did an amazing job on replacing our Velux roof windows. They were friendly & considerate of our home. The fitting was left clean & tidy. Communication between us was easy & a follow up query was dealt with quickly & efficiently.

Eleanor Cross
15:24 08 Mar 21

Gavin Russell
09:05 08 Mar 21
We had a great service from Josh and Simon, hard working, honest and lovely men to have in our home.We're so pleased with the final result, three large windows replaced in a day, left tidy and no fuss.Would not hesitate to recommend.

George Hayward
22:31 06 Mar 21
Sterling service from start to finishWhen I rang for a quote, Josh said he could either get to me that evening or the morning after. He rang me in the evening apologizing that he couldn't make it then and would make it tomorrow, and he did exactly that. The quote came through promptly, detailing the works clearly. Throughout the whole process Josh was incredibly transparent and educated me a lot on Veluxes and how they're installed.When it came to the actual installation, the high standard of service continued. Josh rang 2 days on Thursday before saying that unfortunately he had to take his van to the garage for a problem. Most people in this situation would have just postponed, but he said that Simon and Bill would be over on Friday to do 2 and then he would be over on Saturday to do the remaining 2 as his van would be fixed by then. Sure enough, they all turned up exactly on time and conducted the work in an impressive and professional manner. I'd seen some pictures of other Velux replacements where the plasterwork round the frame had been taken off but in my case just looking at the wall you honestly couldn't really tell that a new frame had been put in, such was the quality of the work. They were incredibly respectful of my belongings and furniture, even carrying out hoovering after they had completed their work for the day.They offer a 5 year guarantee on their work as well. If you need any roof windows replaced in the London area, these are your guys. Punctual, professional and do what they say they are going to do and keep you informed every step of the way. Josh, Simon and Bill - thanks guys

James Spellins
11:34 07 Dec 20
Friendly, knowledgeable, prompt, professional, work carried out to perfection for precisely the sum agreed beforehand. Absolutely delighted.

I absolutely cannot fault this company.Josh was so responsive whilst dealing with us, we had quite a tricky situation and he was full of ideas and suggestions to circumnavigate the issue.We were kept informed when we needed to choose blind colours by and he called us the week before to confirm the materials had been delivered and were ready for installation.Unfortunately the weather wasn't good and Josh called the evening before to pre warn us of the possibility of having to understandably postpone the works. 6:30am the next morning we received a text saying the work had to cancel and he got back to us with a new installation date a couple of hours later, whilst not being able to apologise enough for the delay despite it being no fault of theirs.The new date came and the guys were sat outside at 7:55 and knocked bang on 8am, taking shoes off and being very conscious of COVID rules which was well received by us.The speed and the quality of the work is absolutely astounding, it's transformed our property.Do not miss using this company, Josh, Simon and Billy, you're lovely men and deserve all the success you're having.Thank you so much.Sarah M.

Sarah Marshall
18:50 02 Dec 20
Highly recommended. Have done a beautiful work. Very satisfied

Federica Sanchi
15:39 25 Nov 20
Josh took the call and arrived 15 minutes later. They repaired the broken catch on the window, and could not have been more polite and helpful. Highly recommended.


Nikos Tsagkadakis
10:28 31 Oct 20
Josh and Simon were prompt, polite and professional from start to finish. Wish I had found them earlier so I didn't waste time with cowboys. Trustworthy and Highly recommended.

Nish Kotecha
22:27 27 Oct 20
Josh and Si did a fabulous job of replacing two old skylights in our Victorian home with new Velux windows. Josh and Si were really polite and it was a pleasure to have them. Both windows were done in the day and despite our crumbly lathe and plaster walls there was no mess. Wholeheartedly recommended Absolute Roof Windows.

Matthew Cooke
17:26 20 Oct 20
Very knowledgeable giving great advice throughout. Thankyou

Neil Hessian
21:57 01 May 20
Josh and the team are fantastic and you wont be disappointed when choosing them. Josh has the knowledge to bolster his reputation and workmanship.First class from start to finish.Good luck for the future even though we don't think you need it!!! 10/10